*Disclaimer – This book was sent to me by Birchbox for the purposes of review.
I'm sure by now everyone reading knows about my obsession with Birchbox, and last month they gave me yet another reason to love them, by announcing a book club they've started. Each month they'll pick a different book for BBers to read and talk about on Twitter. June's chosen book was The Vacationers by Emma Straub. Birchbox will also have other book-related activities throughout the month, such as this Q&A with Emma Straub.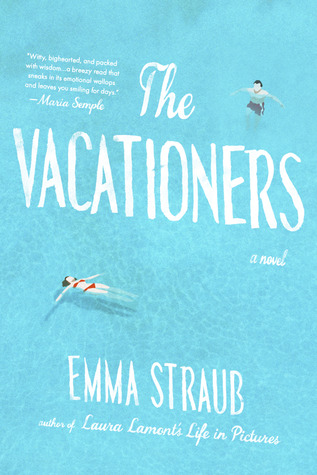 Book summary: For the Posts, a two-week trip to the Balearic island of Mallorca with their extended family and friends is a celebration: Franny and Jim are observing their thirty-fifth wedding anniversary, and their daughter, Sylvia, has graduated from high school. The sunlit island, its mountains and beaches, its tapas and tennis courts, also promise an escape from the tensions simmering at home in Manhattan. But all does not go according to plan: over the course of the vacation, secrets come to light, old and new humiliations are experienced, childhood rivalries resurface, and ancient wounds are exacerbated.
This is a story of the sides of ourselves that we choose to show and those we try to conceal, of the ways we tear each other down and build each other up again, and the bonds that ultimately hold us together. With wry humor and tremendous heart, Emma Straub delivers a richly satisfying story of a family in the midst of a maelstrom of change, emerging irrevocably altered yet whole.
My thoughts: This is the very definition of a beach read to me. I actually read the majority of it poolside, and it was the most relaxing thing to happen to me this summer. I loved having all the different characters points of view, from Franny and Jim, to Franny's best friend Charles and his husband Lawrence, to Sylvia and her brother Bobby and his long-time girlfriend Carmen. Hearing from everyone really gave me a comprehensive view of life in the house over the two-week vacation. Each character has secrets that are revealed as the book progresses, but the main conflict, which we hear about super early, but is nevertheless a minor spoiler, is that Jim cheated on Franny with an intern, and now she's contemplating divorce and he was fired from his job. Parts of this conflict annoyed me a little in the middle of the book, but by the end I was happy with the way Straub really tied up any loose ends.
My favorite character was probably Lawrence, and I'm not really sure why I loved him, other than as an outsider he had a really fresh take on the other characters, and I found myself rooting for him and Charles, who were trying to adopt a baby. I also thought he was the funniest character, but there's really not that much humor in the book overall. Sylvia kind of annoyed me, with her whole "Wah I'm out of high school and still a virgin I need to have sex with the first guy I see" bit. I enjoyed the scenes where Franny and Jim interacted with one another, and I thought the way Straub handled the cheating situation was very realistic. Jim was very sorry, but didn't exactly know how to say it, and also kept imagining how great it was with his intern. Franny, on the other hand, came off as a bit shrew-ish, but really was just incredibly hurt by her husband and didn't know whether she could forgive him.
I agree with Emma Straub that Mallorca was the perfect setting for this novel, she paints an amazing picture of the landscape and scenery, and it's also the perfect setting to read this light, breezy, fun book.
Favorite quote: "What did anyone know about anyone else, including the person they were married to?"