So, I'd like to first apologize for my blogging drought, I knew it would happen sooner or later, and I just got caught up in the usual summer busyness. That said, I do have quite a few fun posts planned, so follow my blog to stay updated!
This book post is something I've seen a couple other people do, most recently the blog Books, Beauty and Buys, and I thought I'd join in. This whole post is off the top of my head, so it may not be 100 percent accurate, it's just what I was thinking of at the time.
Author you've read the most books from: I'm the person who reads every book by an author after falling in love with one of their books, but based on the sheer volume they've written, I'd have to give this one to Terry Pratchett, at least when it comes to adult and young adult books (I don't think I count the number of Hank the Cowdog or Boxcar Children books I've read, haha.) Terry Pratchett's Discworld is basically my favorite series of all time, and with 40 books and counting under his belt, there's plenty to devour.
Best sequel ever: So tough, as I usually like the first book in a series the best. My initial thought for best sequel is Son of the Shadows by Juliet Marillier. Daughter of the Forest is the first in her Sevenwaters series, one of my all-time favorites, and the second is just as good as the first. I can't say the same for the third, but you can't win 'em all.
Currently Reading: Well, this morning I finished Dangerous Creatures by Kami Garcia, a continuation of her Casters chronicles, featuring Ridley and Link, so right now I'm not reading anything, but I'm getting to ready to start Storm Front, book one of the Dresden Files by Jim Butcher.
Drink of choice while reading: Coffee for sure. Iced coffee if I'm out by the pool in summer, hot coffee if I'm curled up on the couch on a chilly night.
E-reader or physical book: I think e-readers are great, I have two myself, but honestly nothing beats a physical book for the memories they have and overall reading satisfaction I get.
Fictional character you probably would have actually dated in high school: My best crushes are all fictional, but honestly I've been in love with Gilbert Blythe since the moment he got a blackboard broken over his head in Anne of Green Gables.
Glad you gave this book a chance: The Elite by Kiera Cass, the second book in her Selection series. I enjoyed The Selection, but heard bad things about The Elite, so I didn't read it, but when I finally decided to, it was worth the wait, and I definitely recommend it and the series.
Hidden gem book: I read a lot of books that are bestsellers, and even more that aren't, but I don't hear people talk about Tamora Pierce's books as much as they should. She's fantastic, and I've read all of her Tortall books and her Circle of Magic books.
Important moment in your reading life: I've always loved to read, I think, but I just remember The Secret Garden as being one of those life-changing books. It definitely opened me up to new genres. Also, the first time I read Harry Potter, because obviously.
Just finished: As previously mentioned, Dangerous Creatures by Kami Garcia, and before that Heaven is for Real by Todd Burpo, and before that Teardrop by Lauren Kate. All excellent reads, for totally different reasons.
Kinds of books you won't read: I won't read anythings scary or anything boring.
Longest book you've read: Tough one, the Harry Potters are of course massive, but I've also read Le Morte D'Arthur and Gone with the Wind, which I think are longer.
Major book hangover because of: Ooh, I get book hangovers when I read for too long, but also when I finish a series and am not ready to leave that fictional world, and a recent one I read that did that is Crown of Midnight by Sarah Maas. Super good series.
Number of bookcases you own: Two, but I kind of leave books everywhere so my house is basically a bookcase.
One book you have read multiple times: I read everything I love over and over again. One of my favorites to re-read is Sunshine by Robin McKinley (my favorite book about vampires) and one of my recent re-reads is Good Omens by Terry Pratchett and Neil Gaiman (was there ever a better author duo?)
Preferred place to read: Anywhere I have a book. Seriously, I will read whenever and wherever.
Quote that inspires you/gives you all the feels from a book you've read: Ugh, I could fill a book with all my favorite quotes from books. But, to follow the title, the one quote that gives me "all the feels" is from Harry Potter: After all this time? "Always," said Snape.
Reading regret: I try not to finish reading books I don't like, so I don't really have many regrets, but I guess one of them could be re-reading books that I really enjoyed when I was younger, because sometimes it can ruin the memory of the book for me if it's not as great to me now. Also, I buy way too many books, so there's that.
Series you started and need to finish (all books are already out): Um, I'm a very disorganized reader, so it's possible there could be a ton of series I haven't gotten around to finishing, but I can't think of any right now.
Three of your all-time favorite books: Don't make me pick!! Seriously, I love them all. I'm going to do authors instead, and I've already mentioned all of them in this post. Terry Pratchett, Juliet Marillier and Tamora Pierce. And J.K. Rowling as a bonus because obviously.
Unapologetic fangirl for: Terry Pratchett, definitely, he's the author I most want to meet. Also, I am in love with Jenny Lawson, known as The Bloggess, and her book Let's Pretend this Never Happened, and I don't apologize for my love there either.
Very excited for this release more than all the others: More than all the others? I'd have to go with The Broken Eye, the third book in Brent Weeks' Lightbringer series. I'm actually about to re-read The Black Prism, and I am beside myself with excitement for this book.
Worst bookish habit: I am super protective of my books (I can't stand dogearing), but I do have a habit that drives others crazy, and it's that I'm the reader who peeks ahead in the book to make sure my favorite characters are still alive at the end. I am so spoiler-happy. Don't hate me too much.
X Marks the Spot: Start at the top left of your bookshelf and pick the 27th book: Random number, but OK. It's Howl's Moving Castle by Diana Wynne Jones (that lady can do no wrong in my book, and that's one of her best).
Your latest book purchase: The Black Prism, which I mentioned above I'm about to re-read.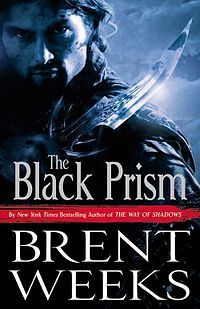 Zzz-snatcher book (last book that kept you up way too late): I couldn't believe how late I stayed awake reading Life After Life by Kate Atkinson.
Congrats to everyone who made it through this whole post! I love y'all, and would love to read about your latest book faves. (And steal them for my own, of course!)