I won a copy of Mindy Kaling's book from Birchbox (it's their Book Club's monthly pick). To win, I had to tweet about why I thought Mindy Kaling and I should be best friends. After reading her book yesterday, I no longer just want to be her best friend, I'm pretty sure I already am (in another life anyway). Seriously, we're like the same person.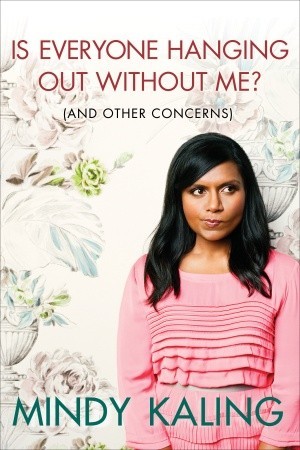 Book Summary and Random Thoughts: Mindy tells hilarious anecdotes of her life, from her childhood as an unathletic kid who didn't learn how to write a bike until she was 12, to being broke in New York City with her best friend, to her stint as a writer and producer on The Office. She intersperses these stories with her thoughts on random subjects, and writes plenty of lists for the book, such as her top 12 favorite moments in comedy. These keep the book interesting, but do interrupt the flow, so the book doesn't exactly run smoothly. That's OK by me, though, because the jokes kept me riveted the entire time, and I enjoyed the randomness (like how she included her own eulogy, written by her friend Mike Schur).
My favorite part of the book, hands down, though, was her chapter on "Best Friend Rights and Responsibilities." This "best friend code of conduct" was so funny because of how true it is. From "I Can Borrow All Your Clothes" to "If Our Phone Conversation Gets Disconnected, There's No Need to Call Back," these tips are golden. But I must say, Mindy, Lasik still isn't really that affordable and it's totally fine that I wear contacts.
But I guess I should include my least favorite part of the book, as well, and that would have to go to her random "Revenge Fantasies I have While I'm Running." I just didn't really engage with Mindy's daydreams about horrible things that she hopes happen to people. But it's OK, Mindy, we'll still be best friends.
Mindy also includes pictures throughout the book, so we get to follow her as she grows from a child with a terrible haircut to dressing as a man for her Off-Broadway play to attending the Emmys. I thought her chapter that just showed us every picture she's taken on her Blackberry (mostly selfies) was totally awesome. You absolutely pull off those big black plastic glasses, Mindy, and you definitely look like Claire Danes.
Things Mindy and I have in common: 1. We both love to read. I read constantly growing up, and like Mindy, tried to use it to get out of doing things. It didn't work out as well for me, though, because my whole family are voracious readers, so they didn't buy my excuses cause they wanted to be reading, too. In fact, my mom used to confiscate my book sometimes when I was in trouble, because it was one of the only ways to punish me. She didn't do it much, because I felt like she thought she was sending the wrong message, but she didn't know what else to do.
2. We both hate the same things. (This is a very important, often overlooked, quality in your best friend.) Mindy has a whole chapter on how much she hates roasts, where celebrities insult each other. I hate roasts, too, Mindy! Mindy and I also hate the Burning Man Festival, sky-diving and menage a trois. Sorry, Mindy, but I'm just ambivalent about parents who tell stories about their babies and incorporate impressions of their babies' voices.
3. We both love making lists.
4. We're both awkward, super nice, love comedy and are supremely confident about the things we do well and when we know we're right.
Favorite Quote: This whole book could have gone on one big "favorite quote" for me. Here are a couple gold nuggets:
"I really do have a remarkable appetite. I remember when the news reports came out about Michael Phelps's ten-thousand-calorie-a-day diet, and everyone was so shocked. But I just thought, yep, I could do that, no problem."
"I'm the kind of person who would rather get my hopes up really high and watch them get dashed to pieces than wisely keep my expectations at bay and hope they are exceeded." (I am also this kind of person, Mindy.)